In Germany we currently have 3 independant DMR-Networks (Digital Mobile Radio):
BrandMeister - developed byArtem Prilusky, R3ABM
DMRplus - developed by Torsten Schultze, DG1HT
DMR-MARC - developed by MOTOROLA™
BrandMaster/BrandMeister is an operating software for master servers participating in a worldwide infrastructure network of amateur radio digital voice systems.
Access via DB0WTL
Access to the DMR-Brandmeister network here is via Repeater DB0WTL (Wasserturm Löwenstein):
RX: 431.6125 MHZ
TX: 439.2125 MHZ
DMR-Brandmeister mobile device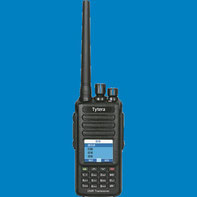 TYTERA MD390 UHF
Take your digital two way communications almost anywhere outdoors with the Tytera MD-390 Waterproof DMR Digital Portable Two Way Radio! The MD-390 provides the same amazingly clear, full quieting digital voice communications as the TYT MD-380 without walloping your wallet, and adds an extra layer of dust and water protection to boot. The MD-390 operates in analog and digital modes on 400-480MHz frequencies (UHF model) at up to 5 watts. It uses Time-Division Multiple-Access (TDMA) digital technology to double the number of users on a single 12.5kHz channel at either high or low power. 
The MD 390 has 1000 channels, built-in CTCSS/DCS, channel scan, priority scan and a DTMF keypad to allow full access to its menu of powerful features. All of the standard calling features are built right in, including Private Call, Group Call and All Call for all the flexibility you expect from true digital radio. It also has lone worker mode, power save mode, low power alarm, and emergency alarm to give you have a feature packed portable that rivals comparable DMR radios at twice the price! 
Let's not forget the display. It's there, too. The TYT MD-390 is equipped with a large, clear, color LCD display with text, graphics and text messages for a professional ambience that rivals many other digital handheld radios costing hundreds more! 
Accessories are a no brainer. The TYT MD-390 uses a standard Kenwood 2-pin (K1) accessory connector, so you can use your existing MD-380 earbuds, headsets, speaker mics and other audio accessories from your existing MD-380 without getting all new gear.
The Tytera MD-390 digital radio uses Digital Mobile Radio (DMR) Tier 2 Standard protocol. It is compatible with the popular MOTO TRBO series Tier I and II using standard encryption, as well as other makes and models of DMR supported radios. It is also compatible with any existing analog two-way radio operating on the supported UHF frequencies for easy migration to digital technology. 
Includes one Tytera MD-390 UHF digital mobile two way radio, one long antenna, one stubby antenna, belt clip, AC charger, 2200mAh lithium-ion rechargeable battery, owner's manual and one year manufacturer warranty.
DMR-Brandmeister Repeaters
All DMR-Brandmeister Repeaters in DL and OE can be found on this list.
All worldwide DMR-Brandmeister Repeaters can be found here.
A Repeaters map can be found here.
Repeaters located nearby your current location can be found here.
There is also a similar Android App DMRepeaters.
Codeplug
Have installed on my MD390 the codeplug from Ralf (DL9SK):
Hotspot: SharkRF openSpot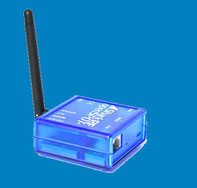 Portable/mobile Hotspot
Together with a 5V Powerbank and a WLAN adapter the Repeater is totally mobile/portable: